TRAVEL + LEISURE
By Everett Potter
In the heart of the Berkshires, Stonover Farm was built in 1890 as a gentleman's farm and opened as a bed & breakfast in 2001. The inn has five luxury suites and sits beside a duck pond with 10 surrounding open acres. There's a well-stocked library, three working fireplaces, and a warm-weather gallery in the barn that displays contemporary painting, sculpture, and photography. Doubles from $385.
Room to Book: The three-room Suite One boasts views of the field and forest from the sitting room, which is furnished with a cozy armchair and ottoman. There's also a writing desk, a marble-encased soaking tub in the bathroom, and the woods just beyond the bedroom.
Get Outdoors: The bucolic roads around Lenox are made for pedaling, so book a Trek road bike rental from the Arcadian Shop.
WAMC Northeast Radio Broadcast
By Jim Jevulis
A former heavy metal rock music producer based in Los Angeles is now enjoying success as an innkeeper in the Berkshires.
The sounds Tom Werman used to hear came from a smoke-filled windowless music studio when he was producing records for rock groups like Cheap Trick, Mötley Crüe, Twisted Sister, Poison and Ted Nugent. Now his ears ring with the sounds from a smoke-filled kitchen — but don't worry, it has windows.
Werman and his wife Suky own and operate Stonover Farm in Lenox, Massachusetts. The bed and breakfast was highlighted by Travel + Leisure magazine in its 2013 edition of "The World's Greatest Hotels. Its five suites nestled on 10 acres less than a mile from Tanglewood have drawn the likes of Rudy Giuliani, Leonard Nimoy and Chelsea Clinton. Werman says what makes Stonover unique is that it's a luxury bed and breakfast, something he calls an oxymoron.
RURAL INTELLIGENCE
By Shawn Hartley Hancock
"Our guests, basically, enter through the kitchen," says Tom Werman, owner and proprietor of Stonover Farm, the luxury B&B a mere mile from Tanglewood that he runs with his wife, Suky. "We like it that way," he says. He's hinting, of course, at the famous omelets he makes for guests on the inn's impressive Aga cooker, as well as to the relaxed environment the couple works hard to provide. The farm provides its guests with "nature" in just the right amounts — broad fields for hiking, lovely mountain views, and even a stream that flows into a picturesque duck pond full of placid swimmers.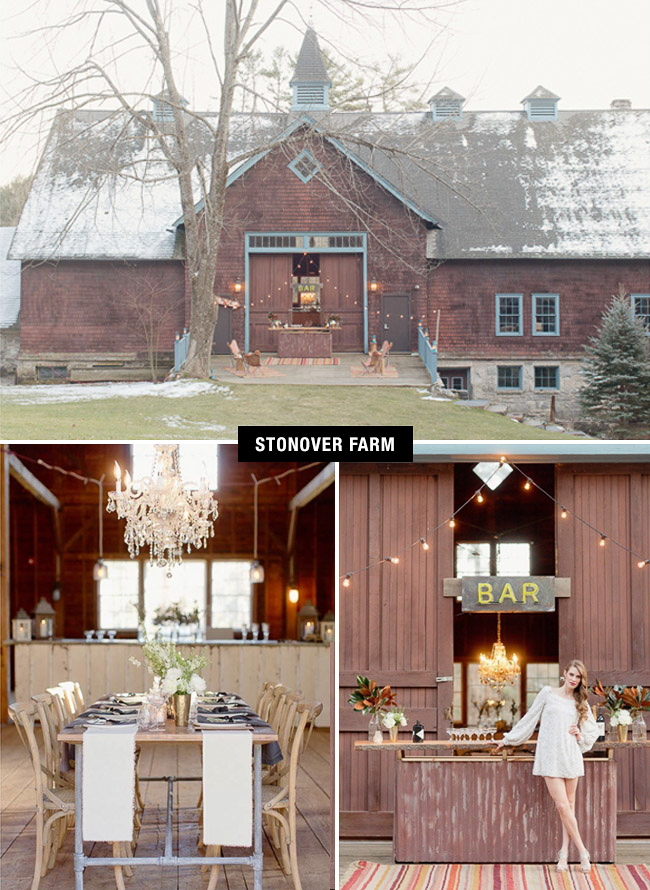 Stonover Farm looks like it's straight out of storybook with its detailed, blue-trimmed hay-barn and lush, manicured grounds. As if the setting couldn't sound sweeter, we'd like to point out the charming duck pond (!), greenhouse and grand country inn (perfect for guest accommodations for the big day). Since they host 12 weddings each year, availability is extremely limited, only adding to this place's appeal. If you're getting hitched in the Berkshires, reach out soon to secure your date!
BOSTON GLOBE
By Geoff Edgers
LENOX — It's early morning in the Berkshires and Tom Werman, owner of Stonover Farm and the man who, in a previous life, produced rock anthems for Cheap Trick, Mötley Crüe, Poison and Twisted Sister, is flipping something he calls the "Tomelette." It's a healthy serving of eggs with sautéed mushrooms and goat cheese.
"You can either be healthy," he says, describing the multiple offerings in the breakfast room "or indulgent, or both."
This is life at Stonover, a bed-and-breakfast that's less than a mile from Tanglewood, the Boston Symphony Orchestra's summer home. Stonover is also a long way from Los Angeles, where Werman became "the most successful producer of metal records in the business," according to a 1987 Los Angeles Times article.
In those days, Werman's job was to translate Ted Nugent's live energy to vinyl and coax hits out of Mötley Crüe, a group fueled by enough illegal substances to power a fighter jet.
HUFFINGTON POST
by Michael Sigman
For Tom Werman, producing is producing, whether it's a multi-platinum album by Mötley Crue or a "Tomelette" — Werman's signature breakfast treat at Stonover Farm, the popular New England Bed & Breakfast he runs with his wife Suky.